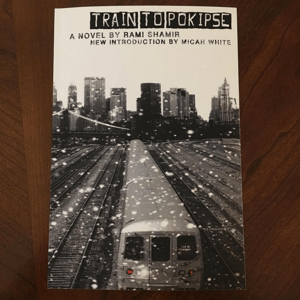 $

15.00
Get your one-of-a-kind copy of the novel that's been called "a CATCHER IN THE RYE for the new century" and "the best novel of the Occupy generaton."
Order your copy from the 1st print run of TRAIN TO POKIPSE's NEWSPEAK edition: 404 copies (signed) with an original photograph of the Bat Cave in Gowanus Brooklyn, circa 2008, hand-numbered 001 to 404.
This handsome edition includes a new introduction from Micah White, the cocreator of Occupy Wall Street and author of "End of Protest": "The novel you are about to read is a timeless chronicle of the psychological origins—the collective mood and affect—that catalyzed Occupy Wall Street... TRAIN TO POKIPSE deftly captures the essence of what compelled the millennial generation of cognitariat youth, over-educated and burdened with student debt, to suddenly throw aside ironic nihilism and rise up in an earnest spiritual insurrection."
$15. FREE SHIPPING IN THE USA.